This story is part of our fall Book Club conversation on "The Mermaids of Mars: In Search of Life in Another World". Want to participate? Join our online community space or record a voicemail on the Science Friday VoxPop app.
---
The Science Friday Book Club is back with another standout read for this spring! Last season, we invited readers to join us in focusing on climate change, coastal flooding and its effects on communities across the country. We spoke to coastal wetland researchers, disaster specialists, climate change experts and environmental journalists about how to respond to 'endsickness' anxiety and about the work that scientists and other researchers are doing to learn from the landscapes most at risk from climate change.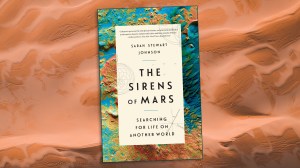 This time we explore the past, present and future of the search for life on Mars (and the author's place in this story as an environmental geoscientist) with Sarah Stewart Johnsonit is The Mermaids of Mars: In Search of Life in Another World. Published in 2020, the book follows the story of humanity's fascination with Mars, and what we discovered about its history and itself when we finally had the chance to see its surface clearly. Part personal memoir and part scientific historical journey, Johnson gives us insight into years of passionate research on the Red Planet and our history of gazing at it. You can get your copy from Powell's or Bookshop.org.
The Sirens of Mars is moving, personal and expansive – and we are thrilled to dive in together. The Spring Book Club season officially starts on February 25, 2021, and you can read with us! We'll follow this reading schedule (pages align with the paperback currently in print):
Week 1 (February 27-March 5): Chapters 1-3, or pages 3-49;
Week 2 (March 6-12): Chapters 4-6, or pages 53-101;
Week 3 (March 13-19): Chapters 7-8 or pages 102-134;
Week 4 (March 20-26): Chapters 9-11, or pages 137-182.
We'll also encourage readers to dig deeper with additional reading, including research papers, articles, podcasts, videos, radio segments, interactive web galleries, citizen science projects, and more! Check back in February or sign up for our newsletter to receive updates.
Want to hear about all the exciting things we have in the works for this Book Club season? Check out all the details below.
---
Take your own copy
As always, if you're interested in purchasing a physical copy, we encourage you to start with Powell's Books, our SciFri Book Club partner, when looking to get your copy of the book. They offer 20% discount on purchases of The Sirens of Mars throughout our Book Club season!

Not only that, but Powell's will send out free copies of The Sirens of Mars to 20 lucky readers! You can participate in our competition by filling out the form below. The first 3,000 people to participate will receive a free SciFri Book Club postcard in the mail before the Book Club starts!
Winners will be chosen and notified by email on February 1, 2022.
Enter the gift
---
Read an excerpt (or an entire chapter)
Not sure if this book is for you? Want to read an excerpt before committing? We have what you need.
Penguin Random House, the publisher of The Sirens of Mars, offered SciFri Book Clubbers not just an excerpt, but an entire chapter to enjoy. Click the link below to read an excerpt on our website, or download Chapter 1 to take the book for a test flight.
Read the extract
---
---
Order the book from our partner libraries
You can support your local library by checking out the book from our partner libraries! Science Friday has partnered with libraries across the country to add eBooks and additional physical copies of The Sirens of Mars in their catalog for the duration of the Spring Book Club! That means more copies to share and, at some participating libraries, no more waiting in a digital queue to get a copy of the ebook — and, of course, always for free.
---
Join our community space
And when you start reading, join us on our online community space: the Science Friday Book Club is now on Mighty Networks, a platform where we can come together and read together. We created this community space because you told us you wanted a better way to connect with other SciFri Book Clubbers, and we hope you'll join us there. You can find out more about why (and how) we created this new space here.
Join our community
---
Book the date(s)! SciFri Book Club Calendar
Mark your calendars, because the The SciFri Book Club spring 2022 season kicks off strong on February 25, 2022! We'll post a full list of gatherings on the events page in mid-February, so check back here for updates.
The best way to be the first to hear about our gatherings is to sign up for our events newsletter. You can register below.
---
Meet the writers
Christie Taylor
About Christie Taylor
Christie Taylor is a producer for Science Friday. His day involves diligent research, too many phone calls for an introvert, and asking scientists if they have a sound of that narwhal heartbeat.
Diana Montano
About Diana Montano
Diana Montano is Outreach Manager at Science Friday, where she creates live events and partnerships to delight and engage audiences in the world of science.